I am so excited to work with this couple! A Disney themed wedding, topped off with "Tale as Old as Time" for the first dance. I love it when couples come to their first lesson with a clear idea of what they want out of their first dance, "we're using the full song", "we'd like an entrance and dip", "we'd like to use an element from the movie choreography, or something close". It makes visualizing the dance much easier and immediately gives me an outline to play within. The bride was also well equipped to answer questions about her dress and shoes, which is incredibly crucial to a good first consult. The groom was also able to quickly tell me the floor space and general room layout, so I can choreograph their routine with the space and audience in mind.
Now, a little bit about the song itself. I think you'll be hard pressed to find a woman my age that doesn't have a soft spot for the story of "Beauty and the Beast". Something about the strong, independent, book worm archetype just resonates so well, which is why "Tale as Old as Time" is such a classic Disney song. The couple is also using the original Angela Lansbury version, which adds an extra layer of nostalgia. While the song is technically a foxtrot, the musical quality feels much more like a waltz, which creates an interesting dynamic for the choreography.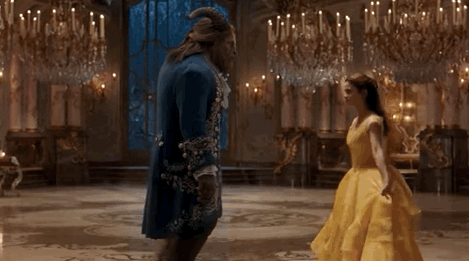 The great thing about creating for a themed wedding is that you can break a few "Ballroom rules" in order to achieve the overall look and feel of the dance. So rather than using a traditional Slow, Quick, Quick timing from foxtrot, we're inverting the timing and playing with the idea of Quick, Quick, Slow to better match the music (and give the couple a pause point after each pattern). I've also decided to incorporate elements from late 18th/early 19th century cotillion and Baroque (17-18th century) era patterns to bring in an air of formality that should match the original Disney scene. The bride requested to include the "hand thing" from the 2017 version of the movie, which appears to be a play on a Baroque era entrance, which falls in line with the time period of the story. Now to just put everything together!