If you follow the Love.Live.Dance social media pages, you probably saw that I teased that I was embarking on a new adventure — becoming a certified wheelchair dancing instructor. Thanks to the American Dancewheels Foundation (ADF), I am now a certified instructor in the sport, and I will be starting a wheelchair dancing group class as discussed below.
Here's a little bit about the sport, the process, and how you can get involved. What is Wheelchair Dancing?
Wheelchair dancing is an adaptive program to bring the traditional ballroom dancing experience to individuals with mobility differences. According to the ADF website, it is the mission of the organization to "integrate people with and without disabilities to partake in a healthy, mainstream activity that creates the potential for a new generation of alliances and opportunities". Essentially, wheelchair dancing is an adaptive version of ballroom dancing between one seated dancer and one standing dancer. It can be taught socially or competitively, and has adaptations for individuals with all levels of mobility.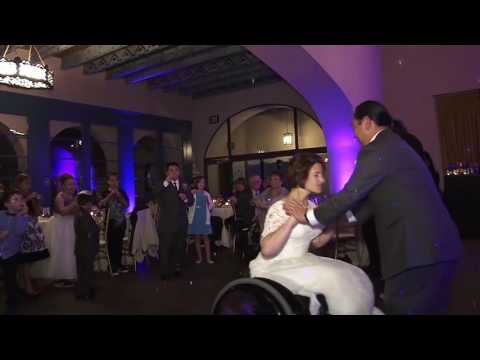 What was the certification process?
Using the DVIDA syllabus for American Smooth and Rhythm dances as a starting point, the ADF has created their own adaptive curriculum for the "basic six" ballroom dances, as well as a handful of additional social dance styles. The main certification process covers Waltz, Tango, Foxtrot, Cha-cha, American Rumba, and Swing as a starting point for most programs. My certification took place in New Jersey in a one-on-one session with an amazing instructor, Aubree Marchione, who is the Foundation's Artistic Director. During the two-day training, we covered all six basic dance styles through the lens of the four dancer positions – Standing Lead, Seated Lead, Standing Follow, and Seated Follow. One of the benefits of going through the certification process in person (there is a Skype option) is the Foundation has access to a wheelchair used for teaching and demonstration purposes. Having the ability to experience the dance from a seated position, and getting to learn the wheel work involved was a concern of mine going into the training, so having the opportunity to work through all four positions was a wonderful opportunity.
How do I get involved?
I will be running a 6 Week Group Class in November! Please use our wheelchair dance lessons page to contact us regarding the class and be added to our mailing list regarding future classes and events. The class is tentatively scheduled for Tuesdays at 2pm, and will be open to both seated and standing dancers.